News
NBYO will bring the wonder of live music to Woodstock
Wednesday, November 08, 2023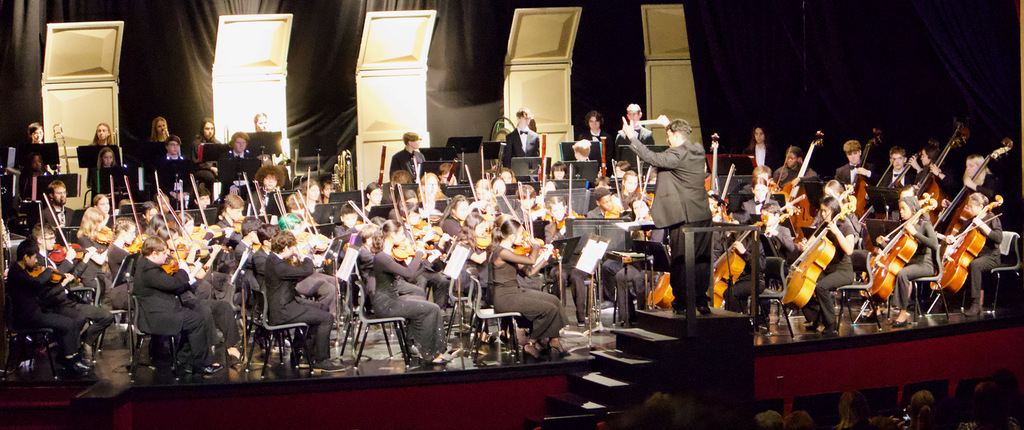 NBYO to present Lieutenant Governor's award to dedicated orchestra booster
Nov. 6, 2023 - Woodstock, New Brunswick: Erica Fisher, New Brunswick Youth Orchestra's longest-serving member and principal viola, says nothing compares to the intricacy, emotion and intensity of live music.
"The dynamics of live classical musical is different than listening to it online. You hear, see and feel the passion of the musicians when you see it in person," Fisher said. "Our orchestra now has more than 100 musicians. It's incredible to hear everyone playing together."
The McCain Community Theatre in Woodstock will showcase the next New Brunswick Youth Orchestra concert on Sunday. Nov. 19 at 2 p.m. The orchestra performed at packed audiences in Tracadie and Bathurst in October to kick off their 2023-24 concert season.
"I feel we have a very strong orchestra this year," said Antonio Delgado, NBYO conductor. "We have expanded our repertoire for this concert… Hopefully we have many people get involved and attend our concert."
The Woodstock concert will include performances of Batuque "Danza di Negri"; Danzas del Ballet "La Estancia"; Miramichi Ballad – A Suite for Orchestra and Symphony No. 9.
Delgado said this year's orchestra features musicians ranging from 10 to 22-years-old, and many of these musicians received a big boost from their acclaimed June performance at Carnagie Hall in New York City.
"Our musicians realized the world is watching. They see what happens when you do well. That was very encouraging to help them work harder."
Thanks to Sistema NB's success at proving transformational social change through music and orchestra, the New Brunswick Youth Orchestra has an abundance of young musical talent from across the province. Conductor Delgado owes much of his musical education to the world-renowned El Sistema program.
"Sistema NB is a proven pathway to better futures. The young musicians now playing for the NBYO are learning focus, discipline and valuable skills that will help them succeed in life," Delgado said.
Fisher, who was part of the initial Sistema New Brunswick program in 2009, said she enjoys meeting other young New Brunswickers who share her love and understanding of music. In her 12 years with NYBO, Fisher and orchestra members have performed at Carnegie Hall, the National Arts Centre in Ottawa, and in Mexico for Encuentros, performing under Conductor Gustavo Dudamel.
-2-
The Woodstock concert will also highlight the presentation of the Lieutenant Governor's NBYO Award to a long-standing patron and supporter of the orchestra. Founded in 2006, the NBYO awards recognizes exemplary leadership and contribution to the development of the orchestra, the musical development of youth and/or the orchestral community in New Brunswick.
"The Award is presented each year during the NBYO concert season to deserving musicians, instructors, members, patrons or volunteers from across the province and beyond," the awards guidelines stated.
Don Matheson, NBYO director of community engagement, said the Woodstock concert will leave a lasting impact on concert goers.
"It doesn't matter if you are first time concert goer or a veteran of NBYO performances, I can promise everyone they will be moved by the young musicians, amazed by their talent and feel New Brunswick proud," Matheson said.
Tickets for the performance can be purchased at nbyotickets.com
The orchestra will also perform this season at Saint John, Fredericton, and Moncton.