News
Sharing 'beautiful moments' despite distancing
Monday, April 13, 2020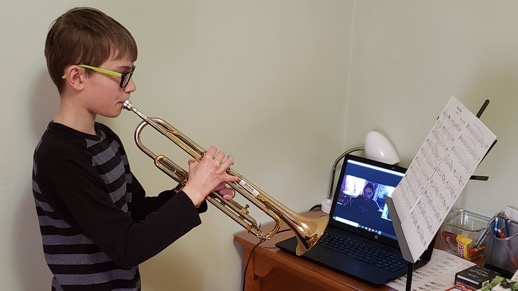 David Gauvin | Times & Transcript -- April 11, 2020
In the 14th century, the Black Plague swept across Europe, altering the course of history as it went.
Medieval Europe also had its own versions of 'social distancing' to try to stop the spread of the epidemic; but back then it mostly consisted of cities surrounding themselves with massive stone walls, throwing rocks to chase away people who were suspected of being sick and hoping for the best.
Which already sounds pretty grim. But topping it all off – what on Earth did those people do without online videoconferencing?
Because here in the 21st century, when life has already been thrown for a loop by our own pandemic, things would be a whole lot loopier if we didn't have technology at our fingertips.
Skype, Zoom, FaceTime, Houseparty, Google Hangouts … they've become increasingly popular over the years as an extension of our social media habits – a handy, inexpensive way to keep in touch with friends, family and work colleagues in real time and with video.
Over the past month, though, as we've all found ourselves confined to our homes, they've become an indispensable link to the rest of the world – a way to try to keep some normalcy in our lives during an abnormal time.
Being a bit of a technophobe, I had never bothered much with the stuff before all of this started, except for the occasional long-distance work meeting.
But in just the past couple of weeks, I've already joined a book club in Halifax and "attended" two reunions of old university buddies – some of whom I hadn't seen in more than 25 years – to share a can of beer and swap old stories, by way of grainy video and choppy sound.
The reporters and editors at your T&T have been using videoconferencing to conduct the daily meetings where we plan the day's news coverage.
And in the near-future – Hallelujah! – schools will probably be making some use of the technology to try to carry on with classroom activities.
In fact, over the past couple of weeks, instructors with the Sistema program and the Moncton Youth Orchestra – both of which are in limbo, along with the school system – have been reaching out to their housebound students to offer one-on-one lesson time by videoconferencing.
And of course, it helps families – sometimes separated by hundreds of miles, sometimes maybe just a few houses over – keep in touch.
Conor Conway, a trumpet instructor with Sistema and the MYO, will be joining the rest of his family, who are spread out across North America and in Britain, to remotely celebrate Passover this weekend.
"We're going to be doing a group seder together," said Conor, a native of Ottawa who has been living in Moncton for six years. "We're all going to have the same food and the same seder plate in front of us and we're going to go through the whole thing together.
"It's kind of the beautiful moment of this, because we would not normally ever get a chance to do a seder together. My family, we haven't had one together in 20 years."
It's these "beautiful moments" that allow us to maintain our humanity – and our sanity – as we hunker down behind our own massive stone walls and wait for the day when we can all get together again for real.
David Gauvin is a Times & Transcript columnist. He can be reached at gauvin.david@brunswicknews.com