News
Imperial Theatre hosting N.B. Youth Orchestra
Wednesday, January 2, 2019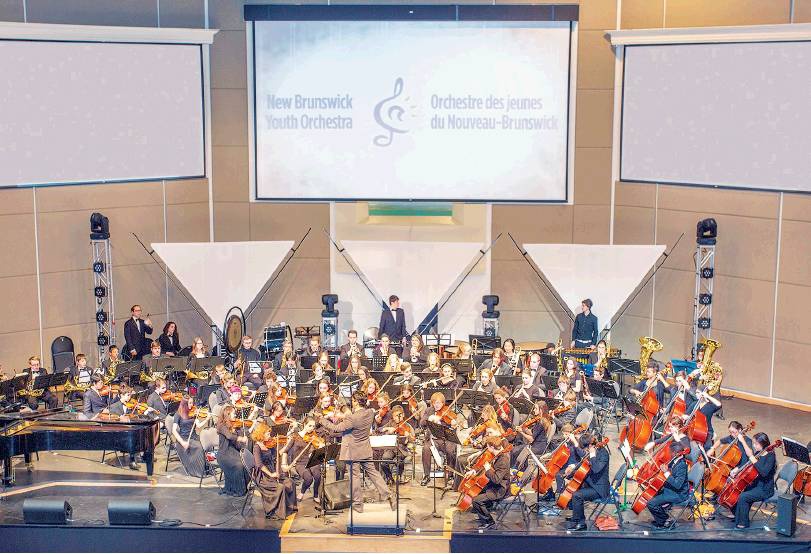 ELIZABETH BATE TELEGRAPH-JOURNAL
SAINT JOHN • From October to March each year, 86 students from across the province meet almost monthly to make music together and, for the 53rd year, on Jan. 13 it will be Saint John's turn to welcome them home.
Founded in the Port City in 1965, the New Brunswick Youth Orchestra has swelled to meet the vision its founder Phillip Oland could only dream of.
"Phillip Oland really had a big vision for what the NBYO would be, making music and orchestras accessible to youth no matter what their resources. Those are pretty big ideas and in a way, we're fulfilling those in a way they never have before," said current CEO Ken MacLeod.
Of the 86 musicians aged 12-22, 24 are from the Greater Saint John area, including concertmaster and violin first chair Gowan Suh from Quispamsis.
Suh and her fellow performers will be welcomed by the Imperial Theatre for their third concert for the season.
This year's show includes traditional pieces such as the Swan Lake Suite, and a piece inspired by New Brunswick itself making its world premiere called Wolastoq Fantasia. Titled after the Indigenous name for the St. John River, the piece by Sam Arnold explores all the communities touched by the river.
The logistics of getting so many talented and busy young people from all areas of the province together is tough, so the musicians spend the weekend of a performance rehearsing together before the big public show on Sunday afternoon, said MacLeod, but many of them participate in other NBYO programs close to home as well.
The program has grown from the one Oland founded to the largest youth orchestra in the country, with 15 orchestras across the province making a musical education available to more than 1,300 children. Auditions are required for the travelling orchestra, but often those auditioning come from one of the other orchestral groups under the NBYO umbrella, said MacLeod.
Now in its 10th year, the Sistema program offers no-cost after school programs at 10 centres spread throughout the province and takes in students as young as six years old.
The program partners with local school districts to find students interested in learning the craft and gets its funding through a combination of government support and private donors.
"The idea behind it is that there are no barriers," said MacLeod."It's incredibly inclusive and it's a real success story. We're not only the largest program in Canada but a leader in the world."
With many youth orchestras across the country struggling to fill seats, the size of the orchestra also speaks to the quality of the program, said MacLeod.
"The level and skill of these young musicians has grown here year by year. People will be amazed by the talent. Really, there is nothing like a live concert." Those wishing to purchase tickets can do so online at www.imperialtheatre.ca or at the box office.