News
Making good sounds isn't good enough
Friday, July 27, 2018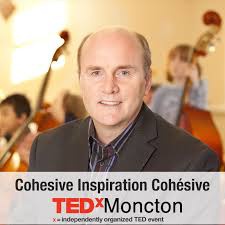 Making music is great. But making music also has great power to change children's lives for the better. When children are left out in society, the consequences are devastating. With no way to belong, grow and thrive, they lose precious potential; hope drains away and their futures are jeopardized.
But learning to play an instrument and perform in an orchestra opens a radically different path. When given that opportunity, children experience beauty not only in the music but also in their lives. Who wouldn't want that for all of our children? Ken is President and CEO of the internationally-acclaimed New Brunswick Youth Orchestra. He has lead, over the past fifteen years, the development of what is today known as one of the most accomplishment youth orchestra programs in Canada.
Ken is founder of NBYO's Sistema New Brunswick program. Launched in 2009, Sistema NB offers social change and hope to vulnerable children, through music. Sistema NB is expanding annually and now operates nine Sistema NB centers in New Brunswick, serving more than 1,000 children daily, the largest of its kind in Canada. NBYO and Sistema NB is also providing leadership in Canada by presenting national conferences for teachers and leaders and by mentoring others in their efforts to begin Sistema-inspired programs. In 2015 the NBYO received the Prime Minister's Award for Social Innovation for the work and leadership in Canada of its Sistema NB program.
Ken is a graduate of Acadia University and Mount Allison University. This talk was given at a TEDx event using the TED conference format but independently organized by a local community. Learn more at https://www.ted.com/tedx
Making good sounds isn't good enough | Ken MacLeod | TEDxMoncton