News
New Brunswick students shine on waterfront stage
Tuesday, July 3, 2018
SARAH SEELEY TIMES & TRANSCRIPT -- 2-July-2018
When Asmaa Alrijae first started learning the viola, she never thought she would be performing in front of several thousand people.
The seven-year-old from Saint John was one more than 250 young musicians, ranging in age from 7 to 22 who participated in the fourth annual Pops NB concert at Riverfront Park on Monday.
"I'm so excited and nervous. There's going to be a lot of people watching us," Alrijae said during a rehearsal before the concert.
The concert had performances from the Sistema NB Children's Orchestra, the Moncton Youth Orchestra, and the New Brunswick Youth Orchestra.
MacLeod said the concert is a chance to showcase the talented musicians who have been progressing with their skills.
"It's an incredibly proud moment for all of our team," he said.
When the event first started, it had an audience of 2,000 people. Last year, it had its biggest attendance with over 6,000 people for the Canada 150 celebrations, which included the debut performance of a song composed for the New Brunswick Youth Orchestra by renowned composer Howard Shore.
"Really what they've done is extended Canada Day," MacLeod said, adding the orchestras are using the stage set up for the Canada Day celebrations the day before.
Christina Campbell, a 12-year-old cello player from Carrefour Beausoleil in Miramichi, has performed in Pops NB last year. She said she was able to make friends with other students from around the province when they collaborated for the event.
"It was a really big crowd. It was probably the biggest crowd I've ever seen that I was playing for," she said.
The Sistema NB Children's Orchestra has children from Moncton, Saint John, Richibucto, Miramichi, Perth-Andover and Edmundston.
The Moncton Youth Orchestra includes advanced students of the Sistema NB program. NBYO musicians are the most advanced players chosen annually by audition throughout New Brunswick with nearly half coming from Sistema NB programs.
Grace Hamilton and Erica Fisher, two Harrison Trimble High School students, have been playing at Pops NB since its inception. They grew up through the Sistema program and are now playing with the NBYO.
Fisher, a Grade 10 viola player, said she likes getting a chance to play on an outdoor stage as opposed to an auditorium.
"It's different than what we usually do," she said.
Pops NB is a more casual orchestra event for an audience because it allows people to drop in on the show while walking downtown, said Hamilton, a Grade 11 trombone player.
"You don't need to sit down and be quiet," she said."It makes the orchestra more approachable."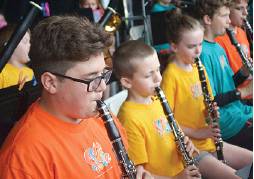 The clarinet section of the Sistema NB Children's Orchestra practices their part for the Star Wars theme song. The orchestra performed the piece in the Pops NB concert Monday night. PHOTO: SARAH SEELEY/TIMES & TRANSCRIPT
This year, Pops NB will also have iTromboni and soloist Mélanie LeBlanc. iTromboni is an all Canadian, all trombone quintet that plays classical music with a twist. Mélanie LeBlanc has performed around the world and recently played the lead role in Mary Poppins at the Capitol Theatre.
Hamilton said she enjoys getting to learn from new musicians every year while preparing for Pops NB.
"It's always fun getting to play with different people," she said.
Fisher and Hamilton were part of a group that went to Mexico for "Encounters," a four-day workshop led by some of the world's most prominent composers and conductors.
Hamilton said all the sessions were in Spanish and they had to interpret the directions from the conductor and other members of the orchestra.
"Because we understood music, we were able to function with people who don't speak the same language," she said.
At Monday night's concert the orchestra played a piece by Arturo Márquez, a Mexican composer who instructed at the Encounters workshop.