News
Sistema NB student Marysol Boisvert from Richibucto is on her way to New York to play at Carnegie Hall
Thursday, May 05, 2022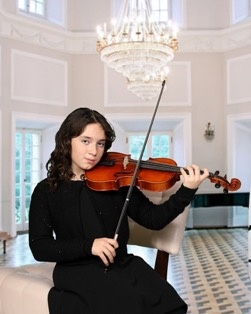 April 28, 2022, Moncton, NB: Sistema New Brunswick is thrilled to announce 12-year-old Marysol Boisvert, one of its talented young musicians, is a third place winner of the American Protégé International Talent Competition Spring 2022. This competition is opened to all nationalities and countries. Talented musicians for this Spring's Music Talent Competition hailed from 12 countries, including the United States, Australia, Azerbaijan, Canada, Costa Rica, India, Malaysia, Mexico, Russia, Singapore, South Korea and Thailand.
"It was Marysol's dream to play a musical instrument and when she started grade 4 at Ecole Communautaire de Soleil Levant she had the opportunity to join Sistema NB and she has not looked back" said Anne Boisvert, Marysol's mom. Marysol also participated and won third place in the Young Artist category in the London Young Musician online classical music performance competition. "Marysol's discipline, passion and drive give her the chance to flourish in the world of music," said Anne Boisvert.
Marysol worked hard to prepare for the competition and said "the most challenging part was being consistent with practices and balancing this with school work." She credits her family, music teachers Swan Serna (viola), Dulce Alarcon (piano) and Sistema NB with helping her achieve this award.
With a year to prepare before the Spring 2023 Recitals at Carnegie Hall she is looking forward to practicing in public. "I have a year to improve, more training and more theory plus I want to practice in public," said Marysol Boisvert. Her dream is to become a professional musician and one day become a music teacher, which she credits Sistema NB.
"Marysol persevered, was focused and listened intensely. She worked hard over the last two years and did a lot of practicing; entering the competitions were a challenge she needed to take her to the next level," said Swan Serna, Marysol's music teacher. Marysol is part of the Moncton Youth Orchestra (one of three regional orchestras of Sistema NB) and her teacher said the training is like "training in sports, it takes hard work and more effort to reach goals and the support from her family makes it a team effort," said Swan Serna.
"The American Protégé International Talent Competition is looking for genuinely talented people, who have creativity and stage charisma; and we have that right here in New Brunswick", said Ken MacLeod, president and CEO of the NB Youth Orchestra and Sistema NB. "We are thrilled for Marysol and pleased that Sistema New Brunswick is helping her reach her dream. We excel when our students excel to achieve their full potential through learning and performing orchestral music.
Sistema NB operates 9 centers, in Moncton, Saint John, Richibucto, Edmundston, Miramichi, Hillsborough, Tracadie, the Elsipogtog First Nation, and Fredericton and engages more than 1100 children daily.
For more information visit: Sistema | Making a difference through music. (sistemanb.ca)
or contact:
Ken MacLeod, President and CEO
Email: info@nbyo-ojnb.com