News
Sistema program expands to Hillsborough, Elsipogtog
Monday, November 21, 2016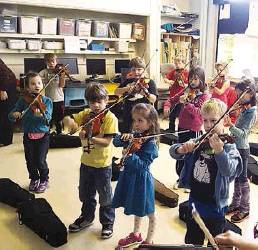 TImes & Transcript
Children in Hillsborough and the Elsipogtog First Nation now have access to a music program where they can learn instruments and perform in an orchestra.
Sistema now operates in eight New Brunswick communities, offering a five-day a week music program for kids regardless of family wealth.
"We know that when children are given the chance to learn, they can accomplish great things," said Ken Macleod, CEO of Sistema NB in a news release."Our program creates this possibility for children who might not otherwise have the opportunity to learn to play music. In the process, they learn skills like discipline and goal setting that will help them succeed in life."
On Nov. 1, Sistema started at Elsipogtog, with instructors teaching violin to 26 grade one and two students at Elsipogtog School.
"The Sistema NB program is now in its third week at our school and has been well received by both students and staff," said Stanley Drillen, principal of the school. "The instructors from Sistema have done an exceptional job in capturing the imagination of the young participants and we look forward each day to seeing their continuing success. This program is not only about music but the building of confidence and pride in the young people it touches."
Similarly, the Sistema program at Hillsborough Elementary teaches violin to 24 students from grades one to three.
"We are still very much in the early stages of our program," said Susan Wilmot, principal of the school, noting that the program started in early September,"but even in this short time, we can see the difference it has made.
"Students and their parents are excited to have this wonderful opportunity to learn to play a musical instrument.
Based on a model created in Venezuela, Sistema NB launched in the province in 2009, with 50 children learning to play instruments in an orchestral setting. Today nearly one thousand children are learning across the province.