News
TOBIQUE FIRST NATION WELCOMES SISTEMA NEW BRUNSWICK
Wednesday, September 18, 2013
The Victoria Star
Music can make an extraordinary difference to the ordinary.
Putting musical instruments in the hands of children and providing them with intensive, free music lessons can change their lives and bring change to communities.
That's what everyone is looking forward to as Tobique First Nation becomes the most recent community to welcome Sistema New Brunswick, a program of the New Brunswick Youth Orchestra.
The program got its start in the barrios of poverty-stricken Venezuela where it is called El Sistema (the System). It is credited by the NBYO as being "transformational for individuals and society" as the children develop confidence and self-esteem while becoming skilled musicians.
Last week, parents and children at Andover Elementary School and Mah-Sos School at Tobique First Nation were introduced to Sistema through presentations and meetings. They learned students in Grades 1 and 2 can join the program and receive free music instruction after school for three hours daily, five days a week starting on Sept. 16. The program will run for the full school year with the young musicians eventually developing the skills to perform as an orchestra.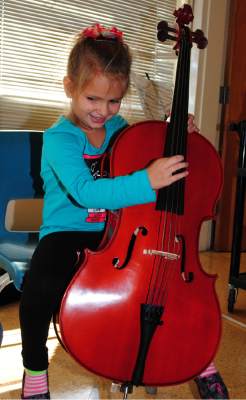 (Alexis Hatheway tries plucking the strings on a cello that is taller than her during the Sistema New Brunswick presentation at Andover Elementary on Sept. 9. Sistema began in Venezuela, where it has brought social change to children and communities. Brought to this province by the New Brunswick Youth Orchestra, Sistema has orchestral centers in Moncton, Saint John, Richibucto and now, Tobique First Nation. Photo by Corinne Fitzherbert)
"It's a wonderful opportunity," Ann Marie Berry Wattie, principal at Andover Elementary, said.
Mah-Sos School Principal Tim Nicholas said the initial connection to Sistema was made through former Chief Stewart Paul who was aware of the program's success in Moncton. Ken MacLeod of the New Brunswick Youth Orchestra then approached Tobique First Nation through the Department of Indian Affairs about the possibility of Sistema being established there and invited members of the community to come and have a closer look.
Nicholas said he was "amazed" when he saw six to 10-year-olds so proficient with their instruments and displaying the daily dedication necessary to take part.
Although initially a little apprehensive about how it would work at Tobique, the level of interest shown at a parents' meeting held last week has led him to be optimistic.
"We had a really good turnout," Nicholas said.
Dave Halpine, a musician and instructor who has moved his family back to New Brunswick from Canada's north to work with local kids, has done "some good promoting", Nicholas added.
(Breanne Saulis-Sappier plucking violin strings with new Sistema NB Tobique Centre Director Dave Halpine at Andover Elementary School...Photo by Corinne Fitzherbert)
"So now we're looking to have about 40 children to get involved," the principal said. "It's absolutely free of charge: no charge for the instruments, no charge for the instruction."
While some adults may harbour bad memories of solitary music lessons they took as a child, Nicholas said Sistema has a much different atmosphere. The children enjoy being with their peers, learning as a group and being part of a team.
Nicholas said they agreed to partner with Sistema and were pleased when the Anglophone West School District said they would provide transportation from Andover Elementary for students from there who want to take part. A nutritious snack will also be provided to participants.
Halpine and Emmanuel Ortega, who is originally from Mexico but drove all the way from British Columbia to help establish the program at Tobique, worked with students at both schools last week. The musicians demonstrated the use of the violin and cello, led some singing exercises and then allowed the students to get a feel for the instruments by plucking on the strings.
The students who enrol in Sistema will be doing a lot more than plucking a few strings. After first making paper instruments and carrying out choral and rhythm work, they will move onto the real instruments such as violin, viola, cello and bass.
The Sistema program was brought to New Brunswick after representatives of the New Brunswick Youth Orchestra traveled to South America for a "fact finding" mission. They carried out a prototype program in New Brunswick in 2009 and have followed that up by bringing Sistema to more communities around the province. Sistema has already been hailed as a success with orchestral centres operating in English in Moncton, Saint John and now at Tobique First Nation and in French in Richibucto.
The mission of the program is "to promote the collective practice of music through symphony orchestras in order to inspire children and youth to achieve their full potential and to acquire values that favor their growth and have a positive impact on their lives and society."
The mission goes hand in hand with Sistema's vision for "social development through an innovative and hope-instilling music education program distinguished by its excellence and for having a positive impact on both the children and the communities where it is implemented."
Halpine said he is excited to be part of the movement and is looking forward to experiencing the talents of the children from Tobique and Perth-Andover. He said the beauty of Sistema is seeing the children working together to create orchestral harmony.
"You can't be great unless you are great together," he said.