News
POPs NB 2019
Tuesday, June 25, 2019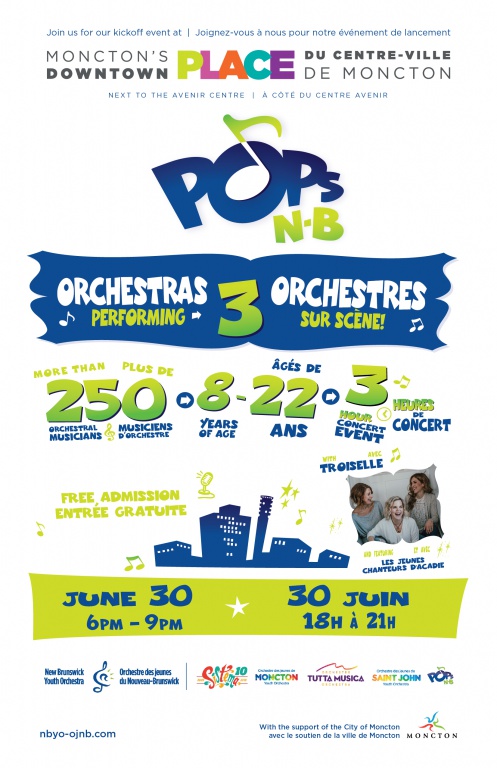 POPS NB will be the first event to kick off summer in downtown Moncton. Performances will take place on the new outdoor stage next to the Avenir Centre. This year, more than 250 young musicians, ranging in age from 8 to 22, will perform in the three-hour concert. The Sistema NB Children's Orchestra, the Moncton and Saint John Youth Orchestras as well as the NBYO.
It's fun and it's free!
In the case of inclement weather, the event will take place at the Wesleyan Celebration Centre on St. George Blvd.
POPS NB donnera le coup d'envoi à l'été au centre-ville de Moncton avec un concert présenté sur la nouvelle scène en plein air à côté du Centre Avenir. Cette année, plus de 250 jeunes musiciens âgés de 8 ans à 22 ans se produiront au cours du concert de trois heures. L'Orchestre des enfants de Sistema, l'Orchestre des jeunes de Saint John et l'Orchestre des jeunes de Moncton accompagneront l'OJNB.
C'est divertissant et c'est gratuit!
En cas d'intempéries, le concert se déroulera au centre de célébration Wesleyan, sur le boulevard St George.