News
This year's Beauty and the Beast is storybook musical: director
Friday, February 22, 2019

ALAN COCHRANE TIMES & TRANSCRIPT - February 22, 2019
This year's Beauty and the Beast musical at the Capitol Theatre will take audiences into a storybook with computer-animated backdrops and a live orchestra, director Marshall Button said Wednesday.
"We want people to fall into it and forget about life and become part of the story," Button said during a rehearsal at the Capitol. The musical, which opens Saturday and continues until March 3, stars Ontario actors Emma Rudy as Belle and Callum Lurie as The Beast, plus a cast of more than 20 actors, some from Moncton and others with a New Brunswick connection.
During Wednesday's brief look into the rehearsal, the familiar characters were in full costume. Rudy changed from a simple peasant dress to a petticoated ball-gown, as Lurie sang in his beastly mask complete wth horns, big teeth and flowing black hair. Matt Raffy, as Lumiere the human candlestick, waved his lighted arms, while Josée Boudreau as Mrs. Potts danced in her pink teapot costume. Most of the costumes were made in-house by Kerri Warren, in collaboration with Michael McArdle and Lynn Losier. Other costumes were rented and brought from Toronto.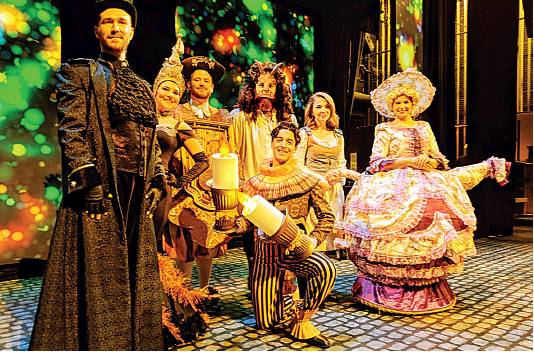 Members of the cast of Beauty and the Beast - The Broadway Musical, pose for a group photo at the Capitol Theatre Wednesday. The musical opens Saturday and continues until March 3. From left to right are Ed McNamara (Mr. D'Arque), Melanie LeBlanc (Babette), Andrew McAllister (Cogsworth), Matt Raffy (Lumiere), Callum Lurie (The Beast), Emma Rudy (Belle) and Josee Boudreau (Mrs. Potts).
PHOTO: ALAN COCHRANE/TIMES & TRANSCRIPT
Behind it all is a plain backdrop that will change with the scenes and the music thanks to computer animation. Moncton visual artist Alisa Arsenault created background scenes of castles, streets and the palace ballroom in bright colours that were animated by videographer Kevin McIntyre. The original artworks are then projected onto the grey backdrop to set the scene. Wednesday's rehearsal scene ended with Belle and the Beast singing in the castle library surrounded by brightly coloured books that seemed to move with the music.
Button said the use of technology helps set the mood in an 800-seat theatre with a small stage where it is difficult to move scenery and sets. During the performances, a live orchestra, conducted by Antonio Delgado, will perform in the pit directly under the stage.
"It's happening fast but it's so exciting. It's been a lot of work but it will be so worth it in the end," said Rudy, who grew up in a family of actors in Stratford, Ont. She studied musical theatre at Sheridan College. She's done a variety of musicals and sang the national anthem for the Toronto Blue Jays at the Rogers Centre. The Charlottetown Festival announced this week that she will play the iconic role of Anne Shirley this summer in the musical Anne of Green Gables.
"It's very exciting to play two well-known characters in the same year," Rudy said."When I'm not doing this, I'm thinking about that. When I'm done here I'll fly to P.E.I. to try on my red wig for the first time, and then jump into that world."
• Disney's Beauty and the Beast - The Broadway Musical will be staged at the Capitol Theatre from Feb. 23 to March 3, with shows at 7 p.m. on weeknights at 2 p.m. and 7 p.m. on Saturdays and Sundays. Tickets start at $39 and are on sale at the Capitol Theatre box office.