News
NBYO Members and Alumni feature prominently in Jeunesses Musicales 2018 "Our Best" Tour
Wednesday, February 28, 2018
The idea for the Emerging Artists Tour came from the "Gala Concerts" presented each year by the JMC Centre in Dieppe. The concept is to present our best students from the Music Departments of the Université de Moncton and Mount Allison University, as well as a selection of young New Brunswick musicians of exceptional talent. There is no denying the potential of our young artists; and year after year music lovers wish for the opportunity to make them better known to a provincial audience. Finally, in March, Jeunesses Musicales New Brunswick will realise a dream that has been talked about for four years, introducing our young emerging classical artists to a broader audience.
The instrumentalists and singers chosen for the Emerging Artists Tour 2018 share a common passion and have talent to spare. Already they shine on the national stage and invariably win public acclaim. The Université de Moncton will send on tour both students completing their degrees and some who have already graduated: Jessie Guerrette (soprano), Jonathan Roy (guitar), Naomi Ouellet (soprano), Jérémie Carrier (percussion), Christine Gollan (piano), and Nokomi Ouellet (percussion). From Mount Allison will come Martine Jomphe (piano), Kaye Claperman (mezzo soprano), Sarah Sharp (mezzo soprano), Zoë LeBlanc (French horn), Justin Reid (trumpet), Minae Masui (piano), and Morgan Reid (soprano). (Highlighted musiciians are current or recent members of NBYO.)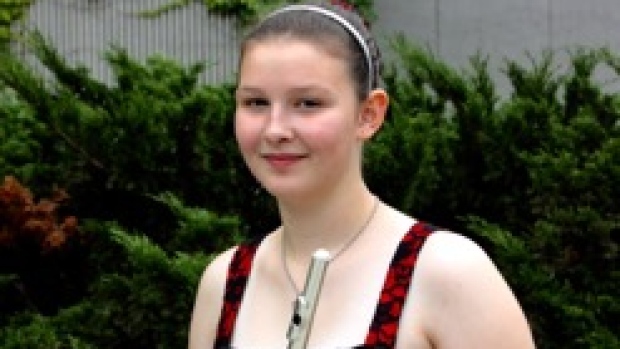 Naomi Ford (flute) winner of the National Music Festival in 2017 will complete the cast.
The tour has been organized by the two universities and their departments of music, the JMC Centres in New Brunswick, JMNB and Jeunesses Musicales Canada. The tour has also been made possible through the collaboration of our financial partners, The Fondation Laetitia-Cyr, UNI Coopération financière, The JMC Centre in Dalhousie and the Resto La Bonne Assiette in Ste-Anne-de-Madawaska.
The "Our Best" Tour was created as a province-wide project to celebrate the young musical talent of New Brunswick and to highlight the extraordinary mobilization of the volunteers in JMC Centres in our province. The provincial organization, JMNB, was created through the efforts of volunteers in JMC Centres more than 20 years ago. "Our Best" will perform in six JMC Centres in New Brunswick.
Calendar of the "Our Best" Tour
March 2018
16th in Caraquet, 7:30 pm, Polyvalente Louis-Mailloux
17th in Dalhousie, 7:30 pm, theatre, LER School
18th in Bathurst, 2:00 pm, École secondaire Népisiguit
20th in Dieppe, 8:00 pm, Centre des arts et de la culture
23rd in Fredericton, 7:00 pm, Centre communautaire Sainte-Anne
25th in Edmundston, 3:00 pm, amphithéâtre, Pavillon Louis-A-LeBel
For more information, please contact Jessie Guerrette
Phone: (506) 378-1093 or via email: jessguerrette@gmail.com